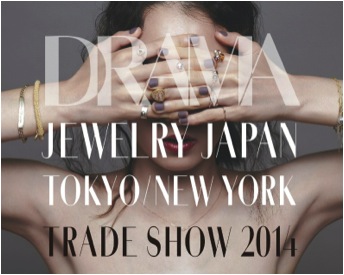 SEPTEMBER 3 – 5
at HPGRP GALLERY NEW YORK
DRAMA JEWERLY JAPAN trade show introduces more than 10 fine jewelry designer brands from Japan to the North American market this spring/summer 2015 season. In its second edition, the trade show highlights a new vanguard of jewelers from across Japan. With an emphasis on detail and originality, the designer brands utilize the finest materials while using production techniques unique to Japan.
DRAMA is a project of six brick-and-mortar stores in Japan carrying the finest Japanese jewelry. In New York, the DRAMA showroom expansion aims to introduce our network of jewelers to the world. By providing sales, public relations, and business services, the mission of DRAMA is to cultivate a new movement of beauty from Japan.
[ EXHIBITORS ]
19UN-NEUF / ASOBINA / C.A.D. / CHIGO / CHIKAKO YAJIMA / GLANIUM / HIRONDELLE / INCANTESIMO / KOJI TAKUMA / MAYU / LYMOUSSET/ TAMAS / SOIERIE
[ VENUE LOCATION ]
HPGRP GALLERY NEW YORK
529 West 20th Street, 2nd Floor
(between 10th & 11th avenues)
New York, NY 10011
*5 minute walk from Designers & Agents
*5 minute cab ride from ENK Accessories Circuit
[ EXHIBITION SCHEDULE ]
September 3rd – 5th, 2014
10:00 am– 6:00pm
[ RECEPTION PARTY ]
Thursday, September 4th 2014
6:00pm – 8:00pm
*Complimentary refreshments to be served.
[ PRESS ]
IONUT GITAN
ionut_gitan@hpgrp.com
+1 212 727 3030
[ SHOWROOM ]
URARA MURAMATSU
urara_muramatsu@hpgrp.com
+1 212 727 2358